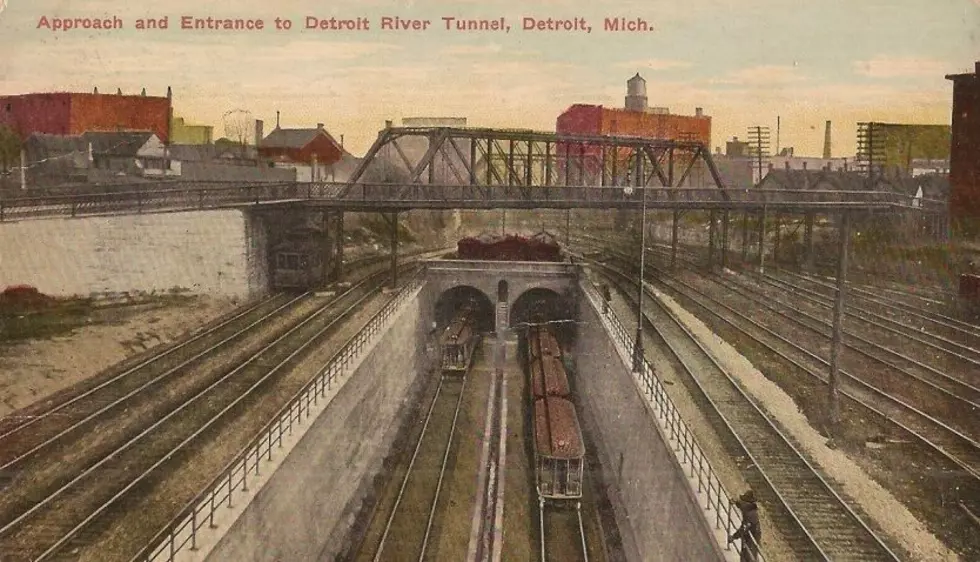 The World's First International Automobile Tunnel Is in Michigan
available @ worthpoint.com
Are you aware Michigan has the only underwater international automobile tunnel in the world? It's the only earthly one where travelers can cross international borders while driving underwater: the Detroit/Windsor Tunnel, completed and opened to the public in 1930.
This 23 million-dollar construction project began in 1928 and was finished a year ahead of schedule, and was dedicated on Saturday, November 1, 1930 with President Herbert Hoover on hand. He was given a gold key, with which he "turned" to signal bells in Detroit and Canada to ring in unison, marking the grand opening.
FAST FACTS:
Approximately 12,000 vehicles pass through daily
Over four million vehicles per year
It is 75 feet below the surface of the Detroit River
One mile long

As impressive as that is, it's not Michigan's first international tunnel…that one would be the Michigan Central Railway Tunnel in Detroit, which began its construction in 1906 and finished in 1910. It cost a mere 8 ½ million dollars and is 2 ½ miles long. Even though it opened twenty years before the Detroit/Windsor tunnel, it just wasn't enough. More and more automobiles were being bought, permeating the streets - and drivers were very much wanting an easy way to get to Canada. Earlier, ferry boats were transporting drivers across the Detroit River.
And we can even go back further! The Grand Trunk Railway Tunnel is the world's first international tunnel! It ran under the St. Clair River at Port Huron and opened in 1891. Known as the St. Clair Tunnel, it was the first underwater tunnel big enough for a railroad to run through. The tunnel was in use until 1994 – then a new one was built to replace it in 1995.
I guess it's safe to say Michigan led the way in subterranean/subaquatic tunnels!
Who knew?
The Tunnels of Michigan
MORE RELATABLE STUFF:
Belvidere, Underwater Ghost Town
Jackson's Secret Underground Room
The Tunnels of Fort Wayne