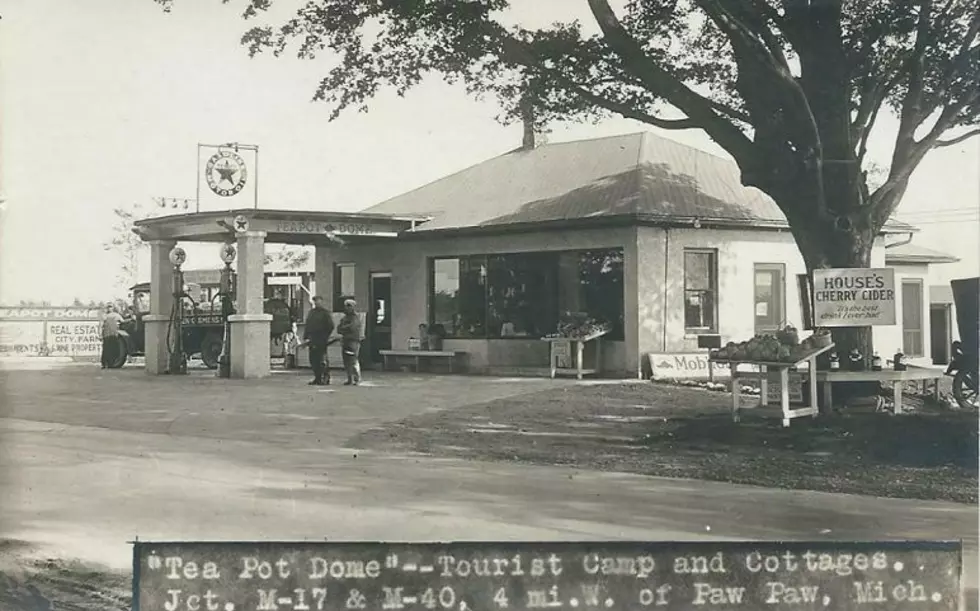 The 1921-1923 Scandal That Gave Teapot Dome, Michigan Its Name
available @ worthpoint.com
We were driving thru Van Buren County near Paw Paw not too long ago when I came across a road sign that read Tea Pot Dome.
"What's that?" I asked.
"It's a town" was the reply.
Well, this was interesting…I had to know more about this place.
Even though the sign lists it as it three words, it's usually referred to as 'Teapot Dome'. It began in the 1920s as a little roadside business along M-17 (now part of Red Arrow Highway) which was once a main road between Detroit and Chicago. It was a gas station, snack stop, and a place to rent a cabin for the night called "Chris Henderson Service Station". It was a modest place where farmers who walked to & from their fields would stop for a bottle of pop and talk for a while…just like in Mayberry.
At the time, there was a major scandal breaking in Washington D.C. which came to be known as "The Teapot Dome Scandal". The Secretary of the Interior under President Warren G. Harding had, according to WMUK news, "secretly leased government oil fields to private companies…... (he) had made it look like the deals were on the level…but eventually investigators found proof that he had leased the oil fields in exchange for bribes…..one of those fields was known as Teapot Dome".
The scandal was notorious enough that the little service station changed its name to "Teapot Dome", but another one with the same name popped up in Pentwater, another in Nebraska, and even another establishment in Washington D.C. that's shaped like an actual teapot.
That little service station near Paw Paw also had a farmer's market and sold homemade baked goods. Eventually, more and more food began being served until it turned into a regular roadside restaurant. It became so popular that it was inevitable that the little community surrounding the establishment also became known as "Teapot (or 'Tea Pot') Dome".
Nowadays there is no gas for your car, no cabin for your weary bones, but plenty of food, with a décor of teapots throughout.
Community of Teapot Dome
MORE MICHIGAN 'COMMUNITIES':
Abandoned Community
The Ghost Community of Clinch, Iron County
The Community of Needmore/Roxana