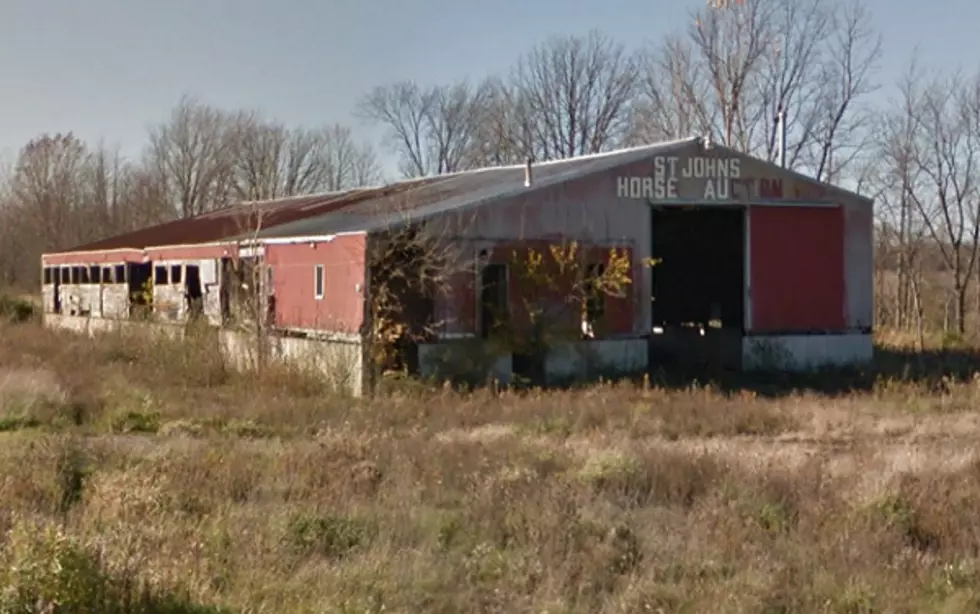 The Abandoned Horse Auction Barn: St. Johns, Michigan
Google Maps
The St. Johns Horse Auction barn has been closed now for many, many years. Even though it has the city name "St. Johns" in the title, it had a Pompeii phone number and an Ashley address; it just happened to be the largest horse auction business within seven states. Perplexed? Well, OK.
According to Pat Reck, in the July 14, 1976 edition of the Clinton County News, "People come from Canada, New York, Ohio. Illinois, Indiana, and Iowa, to mention a few.....there are about 125 permanent buyers or licensed dealers."
The auction barn had a podium for the auctioneer and bleachers for the bidders and spectators. Anywhere from 250 to 375 horses could be auctioned off at a single sale.
4-H kids came to the auction barn looking for their own horse to purchase and enter in contests. The Clinton County News continues to say "The adventuresome are looking for contest horses that will compete in barrel racing and run cloverleaf patterns and the like. Dealers are looking for horses to sell or rent to summer camps such as YMCA camps for children."
The prices? A horse could cost as much as $3,000 and has been known to be as low as $3. Representatives from camps, ranches, race tracks, riding academies, hunt clubs, rodeos, and farms all came to purchase horses and equipment. Unfortunately, some horses were also sold for meat, if you are old enough to remember the growing number of people in the 1970's who switched to eating horse meat instead of beef to save money.
So why did it close down? Lack of funds? Lack of customers? Deterioration? Moved to a better property? If anyone has any info on why it closed down, let me know. In the meantime, take a drive by for a few photo ops...there are 'No Trespassing' signs up so keep that in mind when you drive by to visit.
MORE RELATED MICHIGANIA:
Michigan's Wagons, Early 1900s
Michigan Ice Houses and Delivery Wagons, Early 1900s
HORSESHOE FALLS