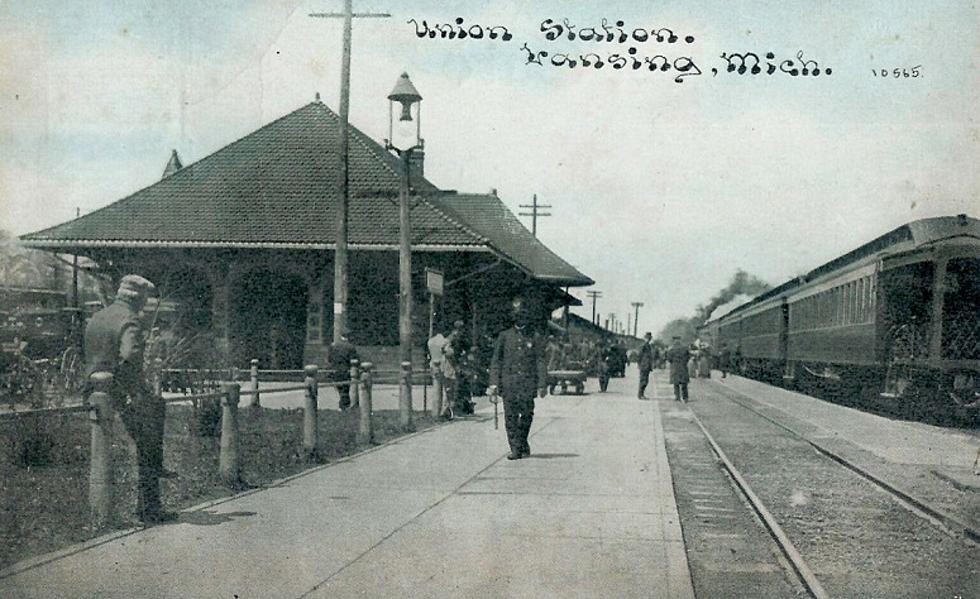 A Look Back at the Union Depot/Clara's Restaurant: Lansing, Michigan
available @ worthpoint.com
Although the first railroad through Lansing arrived in 1863, it wasn't until 1873 when the first depot – a wooden one – was constructed at (what is now) 637 East Michigan Avenue. By 1900, with three railroads coming through Lansing, the little wooden depot just couldn't handle the required services. Two of the railroad companies, Michigan Central and Pere Marquette, combined their efforts in 1901 to replace the old depot with a spanking new one.
According to Fox 47, the new depot was constructed on the same site as the old wooden one. The railroads and depot carried on for decades, but when the automobile began taking more and more customers away every year, Michigan Central (now called New York Central) ceased passenger service in 1959. The Chesapeake & Ohio Railway continued transporting passengers, but stopped in 1971 when Amtrak took over.
The depot stayed vacant until 1978 when it was purchased and turned into Clara's Lansing Station Restaurant. In 1999, an old Pullman sleeper car was added to the 'depot' for more customer space….but all good things come to an end, and on June 26, 2016, Clara's closed for good.
The old depot was bought later that year by the Gillespie Group who had other plans for it…..Starbucks. Starbucks' first "community store" in the state opened Thursday, Sept. 29, 2022, inside the former Clara's/depot…..it's the depot's first tenant since Clara's closed own.
The gallery below takes you back to when it was Clara's, and even further thru time when it was the Union Depot in the early 1900s.
Re-Visiting the Old Clara's Restaurant/Union Depot, Lansing
MORE LANSING STUFF:
Vintage Lansing Shops & Stores
Lansing Theaters and Memorabilia
Miscellaneous Lansing, 1870s-1960s