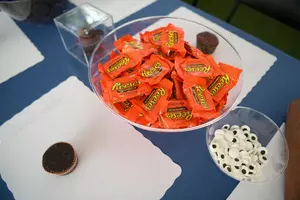 Michigan Picks The Same, Once Again
Getty Images for Good+ Foundatio
It's National Candy Corn day, and for many people in Michigan, apparently, Candy Corn remains the states favorite.
CandyStore.com decided, once again, to come out with their favorite Candy by state list.   This has more than a few people upset (not me) because once again Michigan has chosen Candy Corn as its favorite candy.
Those in the know say that over 150 thousand pounds of Candy Corn was sold in Michigan , coming in a distant second was Starburst followed by Skittles.    My question is, chocolate lovers WHERE ARE YOU?
According to this survey, the number one choice of candy in America is Skittles followed by M&M's , Snickers Bars and Reece's cups.