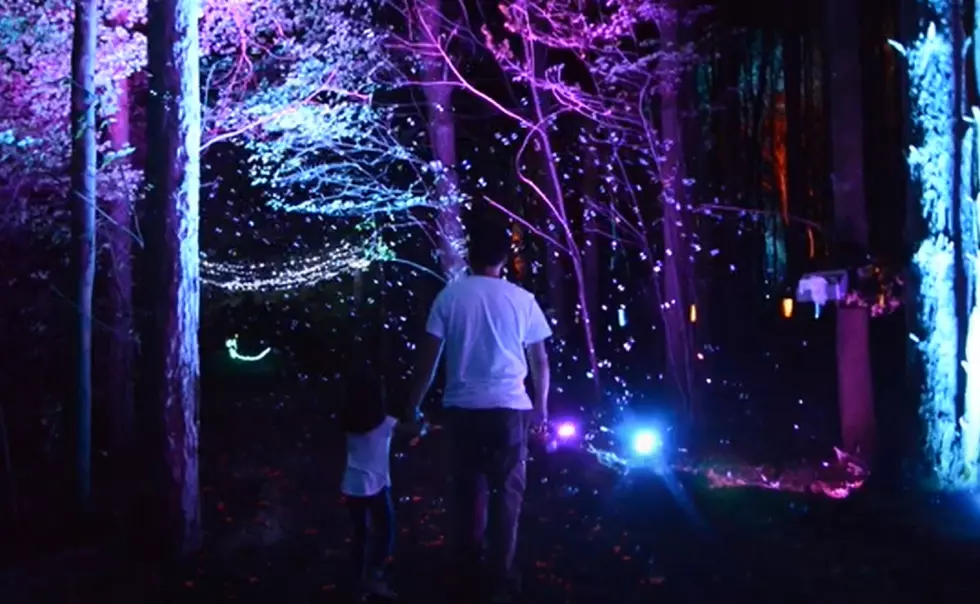 Michigan Forest Transformed Into Psychedelic Wonderland
Metro Detroit Mommy via YouTube
Glenlore Trails forest in Commerce Township has turned into an awesome interactive light show for people to escape the real world for a bit.
You've probably heard of Electric Forest, the music festival, however due to COVID-19, that and many others couldn't happen so Glenlore Trails forest literally became an electric one!
According to MLive, the "fictional premise behind this interactive sensory forest light show" is that there are mysterious creatures in the forest and as an explorer, you have to uncover what the magical source of light coming from the woods is.
Of course, you don't have to be into all the mythology and magic and can go just because you want something unique and "trippy" to do!
Honestly, this looks like a psychedelic paradise that might feel familiar if you lived through the 70's.
Bluewater Technologies of Southfield was the mastermind behind it all, setting up on Glenlore Trails' half-mile path through the woods in Commerce Township at Multi Lakes.
It ended up being a "win" for everyone involved as people get a fun new experience and Scott Schoeneberger said, as MLive reports, it's the first time the company has done anything like this and was looking for a new way to create business among the pandemic we find ourselves in.
Though it is in perfect time for the upcoming Fall season where people are looking to go to haunted houses, the "eerie" vibe only comes from its location in the dark forest and is not meant to be scary!
Schoeneberger told MLive the experience is actually "very family-friendly" and features projections, LED displays, audio elements and even little creatures that play different musical notes when you step on them.
So if you are looking for something fun to do to get you in the "spooky spirit" just in time for fall, check this place out!
As far as specifics on how and when to do just that, CLICK HERE!

Enter your number to get our free mobile app
Looking for more awesome displays of light? Check out these fireworks from around the world!
SEE MORE: Amazing Fireworks Displays From Around The World