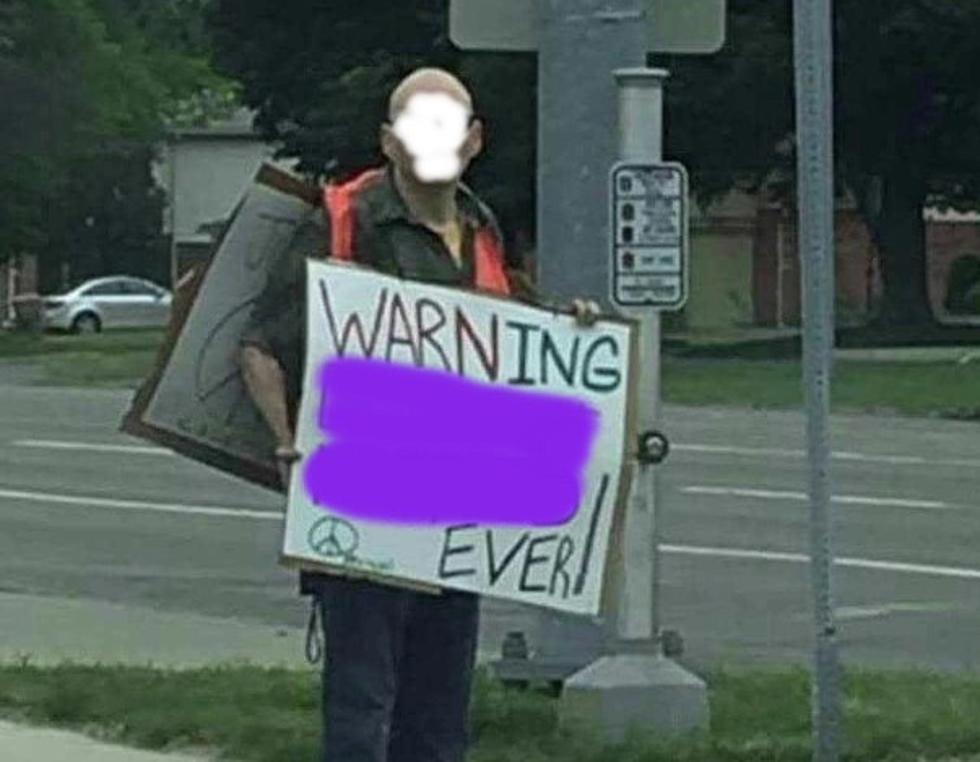 Michigan Man Has A Warning For Livonia Residents
Christina Dodt
A Michigan man has a warning for Livonia residents.

The unidentified man did not share his message in a speech or on social media (until now). He made a sign and put it on at the corner of Farmington and Six Mile Roads.
Check out the uncensored photo courtesy of Christina Dodt,
At least he took a non-violent approach to something he clearly feels strongly about.
I don't know if this was some kind of dare or just a man with a message. Either way, it definitely got him some attention, and my guess is a lot of honking horns too.
All kidding aside, much respect for this guy and whoever he is, I hope he knows a lot of people are taking his advice.
This is not the first time I have posted about a man holding a rather unique sign in Michigan. In February 2023 I shared the photo below with you (again courtesy of Christina Dodt) of a man in Roseville at the corner of Common and Utica Roads.
If you have a sign to wear, do it - just make sure you send a picture to me too, so I can share it with everyone.
10 Kinkiest Cities In Michigan
Michigan Home With Unbelievable Taxidermy Collection
This East China, Michigan home features a stunning great room, which boasts 22-foot ceilings, a magnificent brick fireplace, and a taxidermy collection like nothing you've ever seen before.
11 Famous Eastern Michigan University Alumni & Their Net Worth
Eastern Michigan University has produced a lot of famous people. Check out the net worth of 11 EMU alumni here.