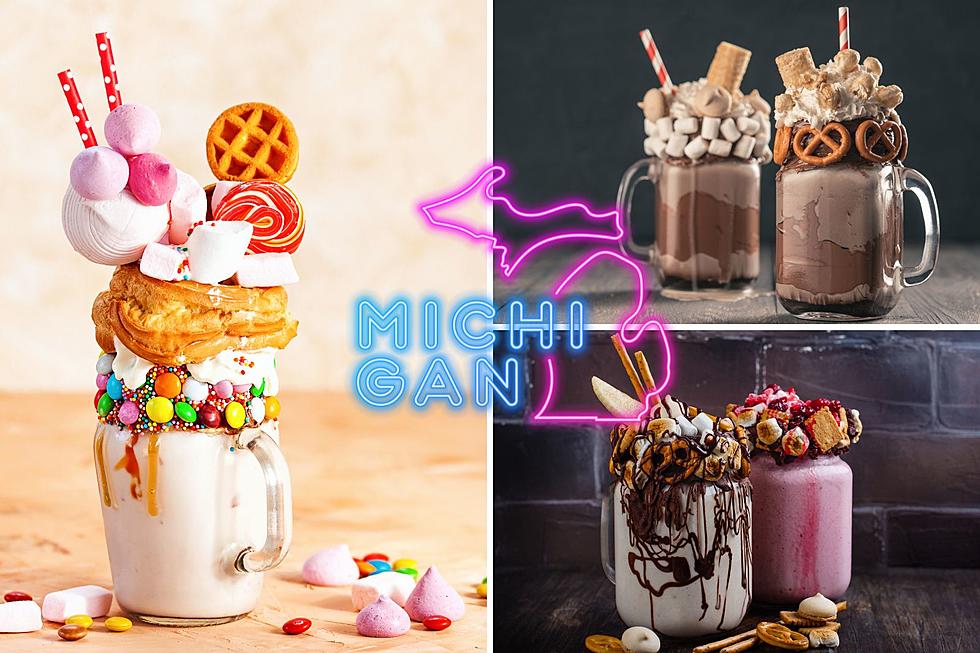 Michigan's Ultimate Milkshake Experience: 4 Places to Get Yours
Canva Pro
Have you got a sweet tooth that needs satisfying?

Why not sink your teeth into an extreme milkshake? Sure, the first thing you think of when you hear milkshake isn't to take a bite, but with these extreme milkshakes, you'll need to.
Crazy Milkshakes
If you've done any scrolling through Facebook or Instagram, you may have seen these crazy shakes before. If not, here's what you are in for; a milkshake that comes in a cup that is dipped in chocolate, and the whole thing is topped with a slice of cake, a donut, whipped cream, and some kind of sauce.
Sounds extreme, right? It might be worth noting that these things are definitely "sharing" size. My husband and I got one once, and we didn't end up finishing all of it, that's how much it has going on.
Where to Find Extreme Milkshakes in Michigan
Still, if you want your Insta-worthy photos and the chance to dive mouth-first into one of these sweet treats, here are four places in Michigan where you can find them:
The cookies & creme flavor is what my husband and I split, it comes with "Oreos, Kit Kat, Hershey bar, large Oreo cookie sandwich, and a mini cupcake." M-Street has multiple locations, too. The OG location in Howell, plus some 'Shakes by M-Street' in Novi and Auburn Hills.
---
You'll need a reservation to get into this popular Detroit local.
---
Mesa Tacos + Tequila calls their extreme shakes, Freakshakes.
---
Bad Habit GH in Grand Haven
Bad Habit does more than just extreme shakes, they do extreme cookies too. Check out this one that's stuffed with a Little Debbie Strawberry roll.
It's all extremely sweet.
These 24 Lansing Area Bakeries Serve Up the Best Sweet Treats
Cookies, cakes, bread, donuts, you name it; these bakeries have it. And, these bakeries are the best in the Lansing area. See if your favorite bakery made the list.
Decadent Desserts at New Extreme Milkshake Bar, Bad Habit, in Grand Haven
Grand Haven milkshake bar,
Bad Habit
, says their ultimate milkshakes are 'sinfully delicious with flavors ranging from positively decadent to tantalizingly sweet". Check out some of their impressive offerings!