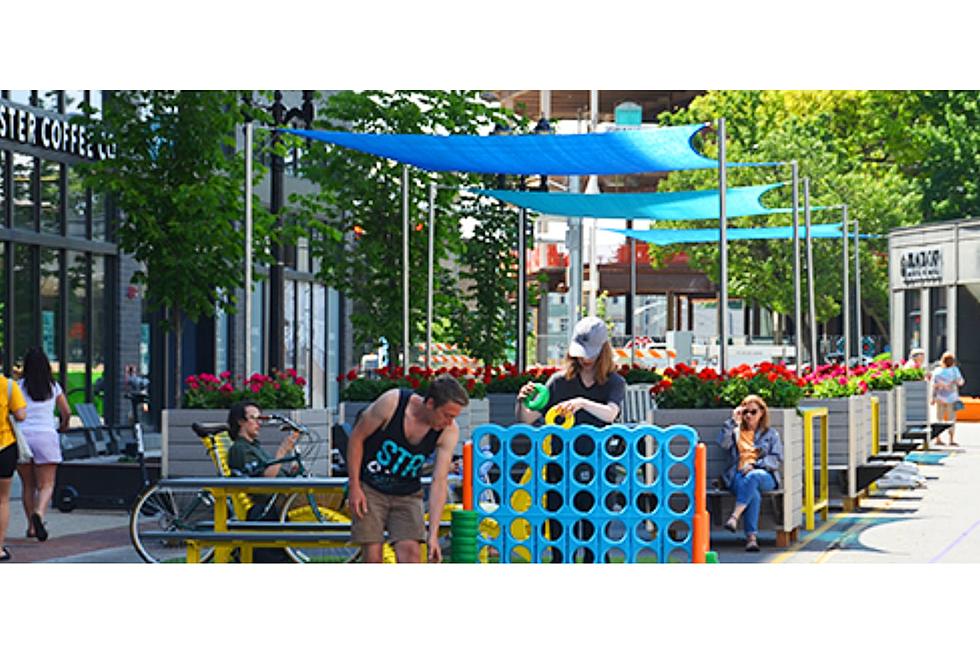 Block Party! Albert EL Fresco Returns to Downtown East Lansing
Photo via the City of East Lansing
Albert EL Fresco is a perfect opportunity to enjoy the great outdoors – right in the heart of downtown East Lansing! Get out for some fresh air and sunshine in this pedestrian-friendly area located on Albert Avenue between Abbot Road and M.A.C. Avenue. They've closed off the road to create one huge block party with additional outdoor seating, tables, rocking chairs, hammocks, decorative lighting, shade amenities, Game Nights (on Thursdays!) and more. Some nights you can even catch live music!
This is a great place to meet friends for a drink and dinner. It's perfect for families to hang out with plenty of space for the kids to move around and play. It also makes for a fun date night with so many options for places to eat and drink right outside of the individual restaurants. Take-out food and non-alcoholic drinks can be enjoyed throughout the space which has some really fun additional seating spaces.
Restaurants along Albert Avenue include:
Barrio
El Azteco
FieldHouse 
Foster Coffee Company
Goodfella's Bagel
Harper's Restaurant and Brew Pub
HopCat
Jolly Pumpkin Café and Brewery
Pinball Pete's
Click here for the schedule of live music and "Game Nights" so you'll know exactly when to enjoy a variety of activities and games in the Albert EL Fresco, including giant Connect 4, cornhole, giant Jenga, ping pong, giant chess and more. Look for the East Lansing Public Library's Library on the Go mobile pop-up library while you're there!
Awesome East Lansing Eateries That are Open Late Night
Whether you've been up late at night working, studying, or (let's be honest) partying, you might be in need of some late-night grub. You're in luck because East Lansing has a good amount of places that are open until at least midnight, some even later, for you to grab a bite to eat. Check out the list below.