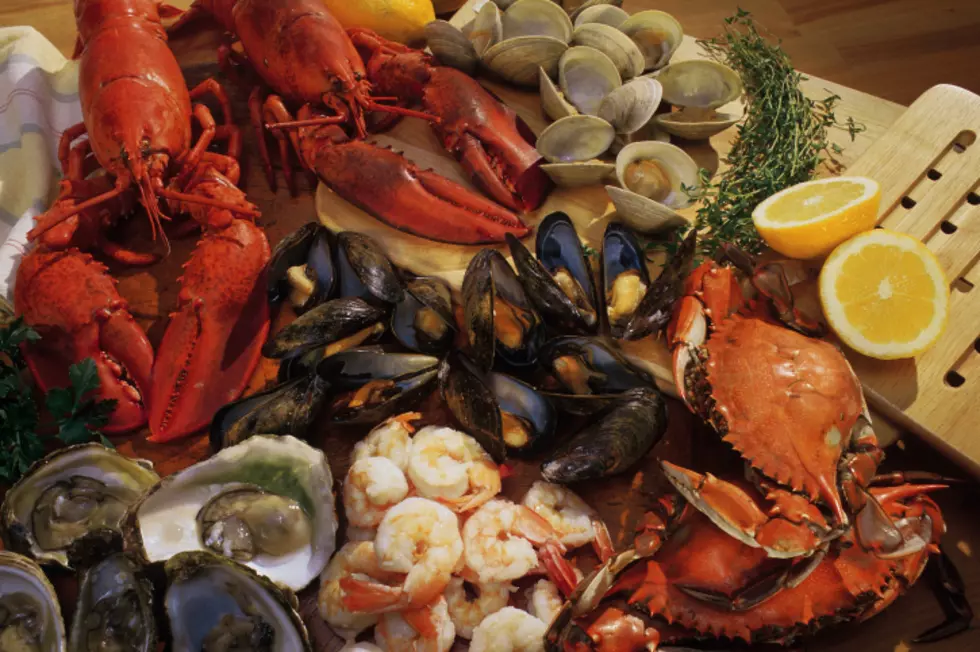 Top 9 Places To Get Tantalizing Seafood Here In Lansing
Comstock, Getty Stock / ThinkStock
Seafood was always considered a "fancy meal" in my family when I was a kid. I am a big fan of seafood and we have some tasty dining options in the Lansing area for ocean meat. Check out the best places to get seafood in Lansing.
When it's warm outside I like to eat accordingly. Hot and muggy days call for something a little lighter for me to digest. I am not the guy who is going to go out for meatloaf in the summer months. I think that some foods are seasonal, like meatloaf.
I am a big fan of sushi and I went out for some sushi on Saturday night at a place called Sushi Moto, located on the west side of Lansing. I am a sashimi lovin' dude and I went for the sashimi combo and some additional salmon sashimi. I am not a fan of all the rice and additional carbs. I'd rather fill up on fish than rice.
When it comes to seafood I want to go to a place that serves more than just fried fish. I'm more health conscious nowadays and can do without the added fat and overall gross feeling I get when I eat fried food. When I order fish I'll order it blackened, grilled or broiled to save on the addtional fat content.
Where do you like to go out for seafood in Lansing? We've got seafood restaurants that are national chains and we have seafood eateries that are local. Let's take a look at what Lansing folks think is the best place to get seafood in Lansing.
Top 9 Seafood Restaurants In Lansing
1591 Lake Lansing Rd, Haslett, MI 48840
Garth M via yelp:
One of my favorites in Lansing...right off Lake Lansing good food and great atmosphere.  My favorite is Grouper Sandwich but Seafood platters, Burgers and Pizza are all solid choices.  And make sure you check out the roof!
3544 Meridian Crossing Dr Dr, Okemos, MI 48864
Chris W via yelp:
The food is very good, service is solid and drinks are well made. It's a favorite for my wife and I!
2324 Showtime Dr, Lansing, MI 48912
Dennis B via yelp:
The ambiance, the service, the staff, the excellent food, the beautiful background music at a level to allow conversation made for a memorable dining experience. The restaurant is upscale and overall provides an outstanding night out. Rebecca was our server and was superb! Looking forward to our next visit.
3140 S Martin Luther King Jr Blvd, Lansing, MI 48910
Josh B via yelp:
This is not a place that will ever tell you "we have both kinds of fish - salmon and tilapia." Fresh Fish offers some fish varieties that don't turn up every day. I opted for white bass and ocean perch. I waited over a month to write this so my details may be hazy, but I liked the larger one better, which I think was the bass, because it had a real fish-type vibe instead of just being a delicious fried snack. Unfortunately they were out of buffalofish, which I've almost never seen on a menu. And, yes, you'll have to try the crack wings, thankfully available in small doses for people who want to focus more on fish.
2975 Preyde Blvd, Lansing, MI 48912
Sal I via yelp:
Being in Lansing, I've searched for something seafood and Mitchell's popped up. Sitting at the bar, violet was the bartender. She was patient and courteous as this was my first time here. I ordered the Cucumber Lavender drink which was amazing! It was well made. She recommended the Ginger Salmon as an entree.  It was to die for! It was encrusted and seasoned very well, cooked to perfection and flavorful.  The presentation was on point as well. The atmosphere is pretty cool too. I feel like i was at the beach.
815 Edgewood Blvd STE D, Lansing, MI 48911
Lanae D via yelp:
Bomb bomb bomb bomb bomb. Omg this place really took care of me and my drivers. There was 7 of us and we ate good that day. The catfish is good. Frog legs good hell even the desserts are good. I recommend this place to any and everybody. I'm a fan of seafood and of you like seafood fried as much as I do go here. They gon take care of you for sure. You won't even have to send nothing back because they make sure they get it right the first time. Love that about them. Lansing fish market is a high recommendation from me.
3. The Tangy Crab - Cajun Seafood and Bar
7433 W Saginaw Hwy, Lansing, MI 48917
Heather M via yelp:
Really nice place to get a good boil. Excellent service- waiter was super kind and patient to explain the menu to my husband who was a little unfamiliar with boils and po boys. Fun atmosphere as well. Food was delicious- I had a signature boil and my husband had a shrimp po boy. Waiter also nicely boxed up the rest of my boil. Will definitely come here again!
3700 S Waverly Rd, Lansing, MI 48911
Brittany A via yelp:
My best friend and I went for lunch today and WOW! We had the crab and shrimp combo in the garlic butter and the crawfish in the Cajun and everything was insanely delicious! They have great portions and incredible flavor. Also, the lunch prices are very reasonable. Don't let the location or the storefront fool you, it's completely redone and really nice and cute inside! I'm already planning my next trip back!  Do not sleep on this place!
1. THE OCEAN CRAB Cajun seafood , sushi & bar
727 E Miller Rd, Lansing, MI 48911
Amethyst W via yelp:
We drove an hour one-way in the rain just to fulfill our seafood cravings. It was so worth it. We ordered the number one ocean with an extra pound of headless shrimp an extra half a pound of black mussels with the ocean, juicy flavor, medium spicy, low sodium and some pasta, the service was excellent and very engaging our waitress, a lot of energy and was pretty funny. The ambience was bright, cherry and clean. It was overall good experience love coming to this place and will be back again soon.
There ya have it. Enjoy satisfying your seafood fix at these Lansing area seafood restaurants.
Michigan's Ugliest Creature: The Fish With Human Teeth