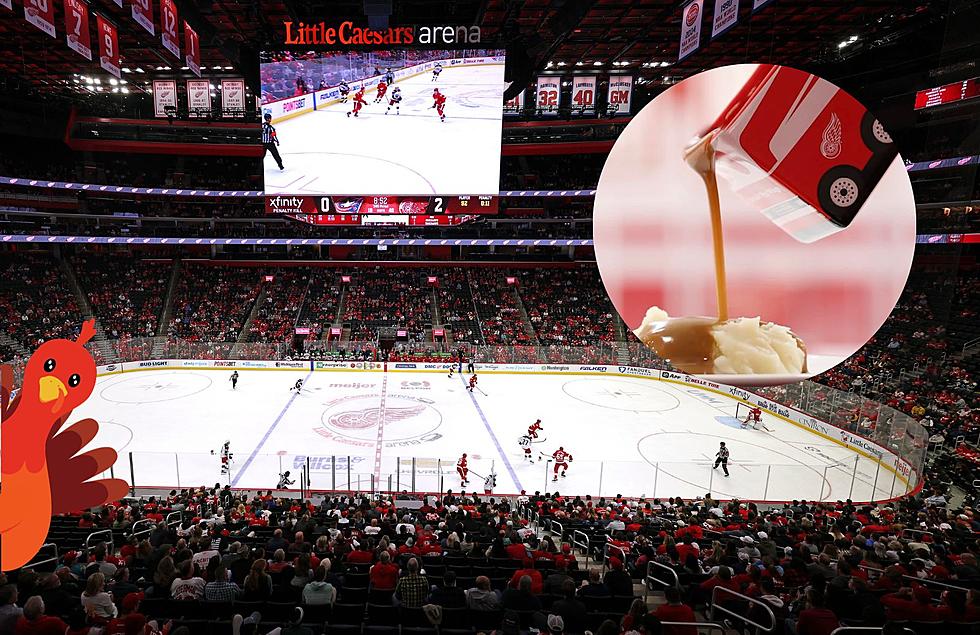 Thanksgiving Just Got Better with the Red Wings Zamboni Gravy Boat
Getty / Detroit Red Wings / Canva
I thought I saw the coolest Detroit sports team giveaway a few weeks back when the Lions gave away an Aiden Hutchenson bobblehead that also had a leg that could kick.
But what the Detroit Red Wings are giving away at an upcoming game might be the coolest thing ever.

Thanksgiving Just Got Better with the Red Wings Zamboni Gravy Boat
The Detroit Red Wings shared on social media that the first 7,500 people through the door at Little Caesars Arena are going to receive a Detroit Red Wings gravy boat zamboni thanks to Meijer.
This looks amazing and should be on the table at Thanksgiving for every Detroit Red Wings fan.
I'm planning on buying tickets to this game and arriving early so I can be one of the 7,500 fans to get my hands on it.
Buy Tickets To The Game
The game is happening on "Thanksgiving Eve" which is Wednesday, November 22nd at 7 pm.
The Detroit Red Wings will take on the New Jersey Devils.
If you want to buy tickets for this game and try to get your Detroit Red Wings gravy boat Zamboni you can click here to look at tickets.
As of right now, it looks like the cheapest ticket is around $70.
Even if you're not looking to score the Red Wings gravy boat Zamboni it still sounds like a fun alternative to going to your hometown bar and seeing people you went to high school with.
Detroit Red Wings Legend Chris Chelios Lists Beachfront Home, $75 Million
Gallery Credit: Red Fin/The MLS
25 Things Michigan Is Known And Famous For
Michigan is known as the Motor City and is home to Motown. But that just scratches the surface of what the Mitten state is known and famous for.
Gallery Credit: Big Joe Pesh
Famous Celebrities You Might Not Know Are From Michigan
You will definitely recognize these names and faces, but might be surprised to find out they're from Michigan.
Gallery Credit: Big Joe Pesh / Getty Images