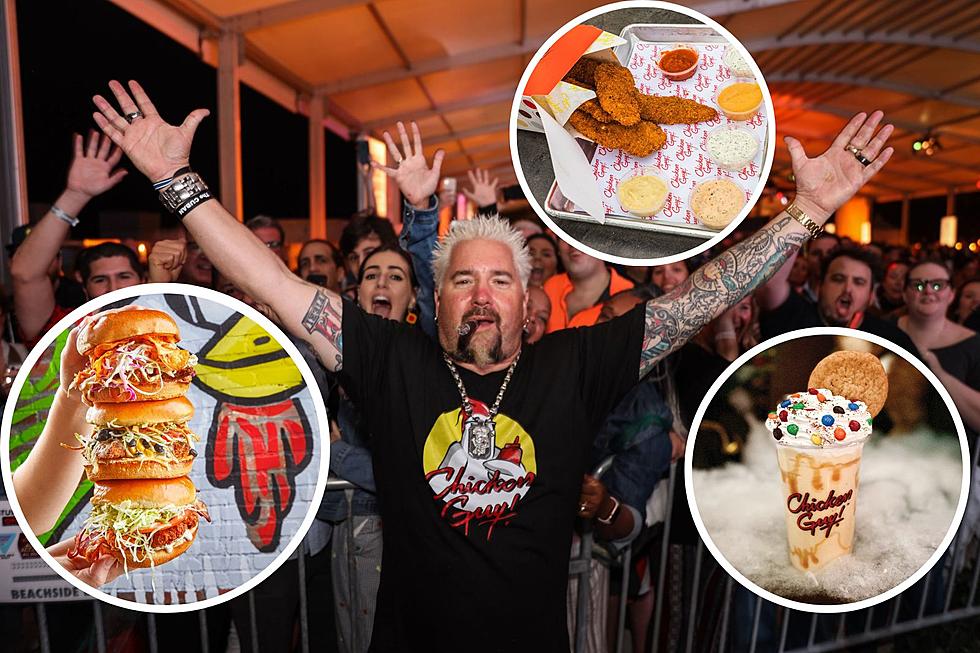 Michigan's First Chicken Guy Restaurant Opens This Weekend
Chicken Guy, Facebook
Celebrity Chef and TV host Guy Fieri's chicken chain is coming to the Mitten State!

Chicken Guy! was "hatched" from the minds of Guy Fieri and renowned restaurateur, Robert Earl.
Menu at Chicken Guy!
The restaurant features chicken tender dishes and chicken sandwiches paired with a huge selection of sauces created by Fieri.
The chicken is brined in fresh lemon juice, pickle brine and buttermilk, and infused with fresh herbs.
Sandwich options include The Bourbon Brown Sugar BBQ, which has pepper jack cheese, bourbon brown sugar BBQ sauce, special sauce, slaw, pickles, and BBQ kettle chips.
There's also salad bowls and sides like fried pickle chips, coleslaw, Mac and cheese, and loaded fries.
Plus, creative shake concoctions! Flavortown shake options include:
Triple Double Mint - Hand-spun mint chocolate soft serve, crushed OREO® cookies, chocolate mints, chocolate syrup, topped with fresh whipped cream.
Apple Cinnamon Cereal - Hand-spun vanilla soft serve, Cinnamon Toast Crunch™ & Apple Jacks© cereal, topped with fresh whipped cream
Then there are the sauces, more than 20 of them!
You'll find classics like honey mustard, buffalo, and ranch, plus Guy Fieri specials like Donkey Sauce, which is a combination of mayo, roasted garlic, mustard, Worcestershire, and lemon.
While menus vary by location, check out the Atlantic City menu to get an idea of what the Michigan Chicken Guy! restaurants will serve.
Chicken Guy! Coming to Michigan
The first of many Michigan Chicken Guy! restaurants is set to open in Livonia April 1, 2023 at 11a.m.
The new restaurant at 30130 Plymouth Road is the chain's eighth location.
There is a ribbon cutting ceremony at 11a.m. and then the doors will officially be open. Chicken Guy! will be honoring Livonia Fire and Police by offering them a free meal. They will be able to experience a sandwich and side dish of their choice, by simply showing their badge. This offer is valid on opening day, Saturday, April 1st.
In addition, throughout the day guests will have the chance to win various prizes and of course be the first in Michigan to try Chicken Guy!
The Livonia Chicken Guy! will be open daily 11a.m. to 9p.m.
According to the Detroit Free Press, 19 more Chicken Guy! locations are planned for the metro Detroit area over the next 10 years.
Fieri said in a release,
The people of The Motor City have spoken…I'm bringin' my real deal chicken tenders, sandwiches, and shakes to Livonia. From shooting DDD to taking part in the Woodward Dream Cruise, the Detroit area has always been a go-to for me so I'm stoked for everyone to give us a try. See ya there!
Here's hoping Chicken Guy! expands to all of the Mitten State soon!
16 West Michigan Restaurants Featured on National TV
West Michigan has a great foodie scene! Through the years, national TV shows like Food Paradise, Cheap Eats, and Diners, Drive Ins, and Dives have shot at West Michigan restaurants.
How many have you visited? Which local restaurants do you think SHOULD be featured on national TV?
13 Michigan Restaurants Featured On TV's 'Man vs Food'
13 Michigan Restaurants That Have Been On 'Man vs Food' TV Show
These Michigan Restaurants Have All Sadly Closed Since Appearing on National TV
You'd think an appearance on a national TV show like Diners, Drive-Ins, and Dives or Restaurant: Impossible would guarantee success for a restaurant.
That hasn't been the case for these six restaurants, all of which have closed after being featured on national television.