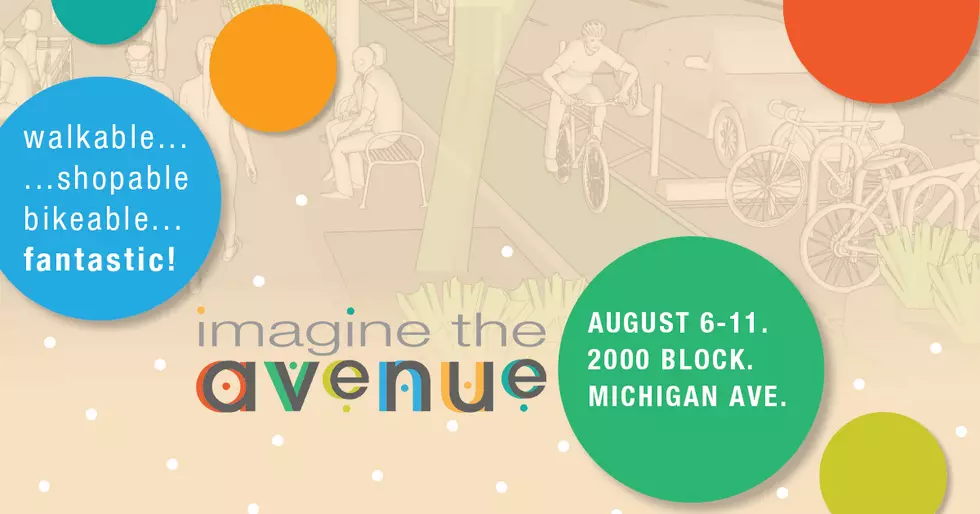 Imagine The Avenue, August 6-11, Michigan Ave
Credit: http://www.LansingMI.gov/ImagineTheAvenue
2000 BLOCK. MICHIGAN AVENUE. LANSING.
August 6-11
For one week, along one block of Michigan Avenue, we invite you to imagine how a "new" Michigan Avenue could look and function. Walkable, bikeable, shopable ... fantastic. Special activities are planned during the week. Come experience Imagine the Avenue, then take our brief online survey and let us know what you think!
LANSING BIKE PARTY
Friday, August 10; 6 pm
Meet at the Peanut Barrel in East Lansing, then enjoy a leisurely ride along the Avenue — ending at Arts Night Out.
ARTS NIGHT OUT
Friday, August 10; 5-8 pm
2000 block of Michigan Ave.
Music, artists, and walkable fun throughout the neighborhood.
Asian Gourmet
Bead Boutique
China Flavor
EmPOWer Lansing: free classes
Everybody Reads and Triple Goddess Bookstore

Green Door

Local Tattoo
Strange Matter
The Avenue

The Venue

Toarmina's

Wild Strawberry

... & More
Artists throughout the Eastside including:
Daniel J. Hogan (illustrator);
Steph Joy Hogan (mixed-media painter);
Lainey Yehl (chalk artist); Andrew Sandstedt (sculptor);

Violet Defiant (contortionist); All of the Above (dance);
Jena McShane (photographer); Brian Whitfield (muralist);
Jenny Schu (bead and fiber artist):
Michelle Deterring (watercolor);
Mary Molnar (mixed media painter);

Amanda Grieshop (photographer); Sarah Jean Sews; Obsidian Wolves (dance)
Taylor Taylor; Adam Droscha; Kendall Cassella; Mike Bass.
FAMILY FUN FEST
Saturday, August 11; 11 am - 2 pm 
City of Lansing lot behind the Green Door. Food trucks and family fun combine for  a great Saturday.
Face painting

Balloon animals

Fenner Nature Center

Impression 5 Science Center

Home Depot Kid's Workshops

Brandon McCoy (musician)

The Smoke N' Pig BBQ food truck

... & More
LANSING ART SPACE POP-UP ART MARKET
Saturday, August 11; 10 am - 4 pm
Corner of E. Michigan and S. Fairview. Organized by the Eastside Neighborhood Association.