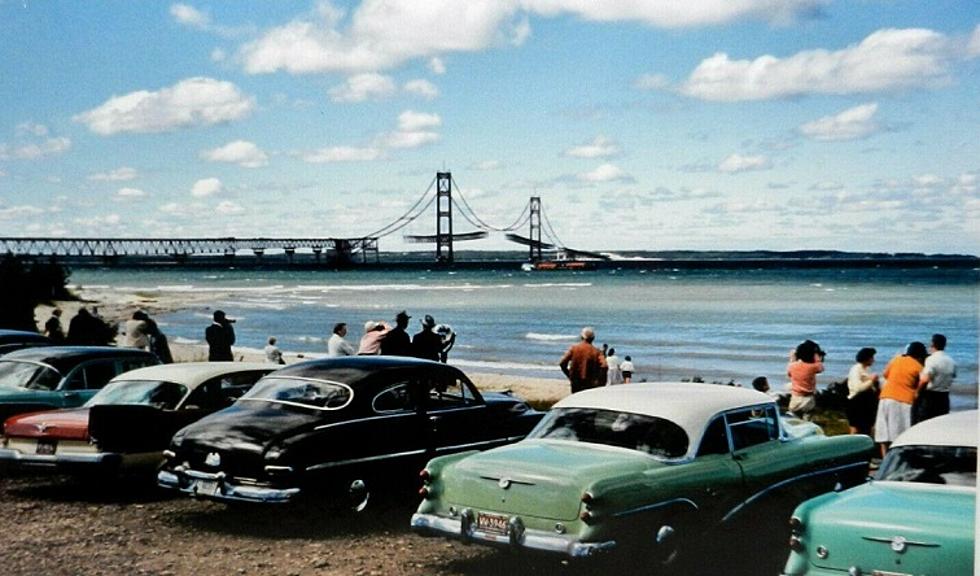 The First Mackinac Bridge Labor Day Walk, 1957: Mackinaw City/St. Ignace, Michigan
available @ worthpoint.com
Once again, the annual Labor Day walk across the Mackinac Bridge is upon us. So how long has this been going on? Ever since the late 1950s.
But the very first "Labor Day Walk" did NOT take place over the Labor Day weekend. The first walk happened during the Mackinac Bridge's dedication ceremony in June 1958, when only 68 people took it upon themselves to walk the entire span of the bridge. The idea of an annual walk was hatched and the first one on the actual Labor Day was the following year, 1959. Even so, that first walk in June has been lumped in as the very first "Labor Day" walk.
It's usually the governor who leads each year's walk, but one year a United States president led the walk...the only one to do so: President George H.W. Bush, in 1992 (ironically, Bush's "W" stood for "Walker").
I know a good handful of people who have participated in the annual walk, but I have not. Although I really love traveling north and visiting the straits, I just haven't joined in...I'm not saying that I never will, though (to see the making of the bridge, check this link).
Compared with the 68 people who walked in 1958, the average number of participants is currently over 60,000.
FAST FACTS:
A) Participants can begin anytime between 7am-11:30am
B) No one can start after 11:30am
C) If you plan on doing the whole length, you need to reach midway by 10am
D) 5 miles one-way, plus you can walk across and back if you start early enough
E) Bridge re-opens for traffic at noon
F) For those who walk both ways, you can get a "double-crosser" t-shirt
Not permitted:
BANNERS
BICYCLES
JOGGING
PETS
ROLLER SKATES
RUNNING
SIGNS
SKATEBOARDS
SMOKING
UMBRELLAS
WAGONS
Permitted:
BABY STROLLERS
SERVICE DOGS
WHEELCHAIRS
Oh, and one more thing...there are no bathrooms on the bridge.
Mackinac Bridge Labor Day Walk
MORE MICHIGANIA:
Pat Rickley, 30-Year Toll Booth Operator at Mackinac Bridge
Shipwrecks in the Straits of Mackinac
Mackinac Bridge Mishaps