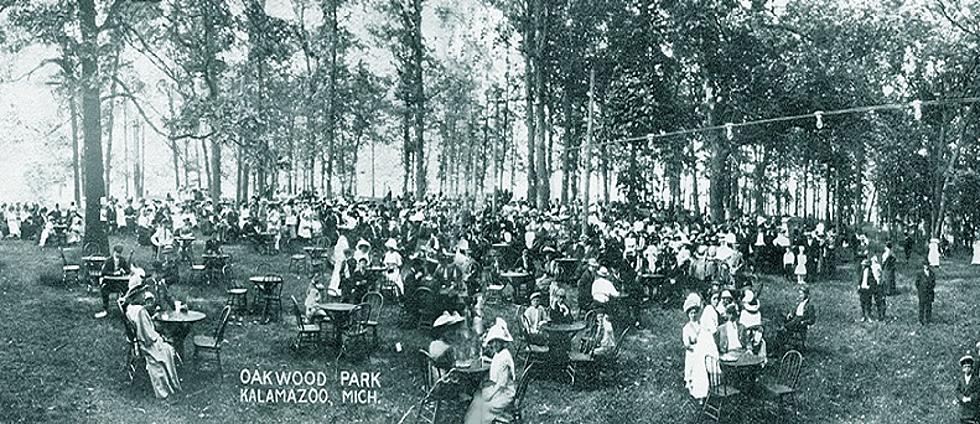 The Disappearance of Oakwood Amusement Park: Kalamazoo, Michigan 1907-1925
available @ worthpoint.com
In the 1890s, Lake View Park – located on the east end of Woods Lake – offered a wide variety of entertainment for the masses: balloon rides, band concerts, baseball games, boating, dancing, merry-go-round, picnics, and swimming. Something for everyone: from gramps to junior.
In 1898, an amphitheater was opened called the Lake View Casino, which featured numerous theatrical & vaudeville shows, burlesque plays, comedy, ragtime, minstrel shows, and even opera for an enthusiastic public. By 1904 the theater had become so popular, the name of the park was changed to Casino Park. Some of cinema's earliest films were seen here, such as the historic 1903 film "The Great Train Robbery."
Fast-forward to 1906, when Michigan United Railways took control of Kalamazoo's urban railway system, causing the popular Casino Park to close down. Not to let the Kalamazoo public down, another park opened in June 1907, this time on the west end of Woods Lake: Oakwood Park. Oakwood was a much larger amusement park, with the same balloon rides and concerts but with all new features: new band stand, new boat house, new dance hall, new nickelodeon, and new roller coaster, the Dizzy Figure-8.
Up until 1915, the park was receiving up to over fifteen thousand customers a day. A new baseball field was cleared at the corner of Broadway & Lorraine and a new bandshell at Broadway & Parkview.
After World War I, automobile sales zoomed and the public began driving themselves to anywhere-and-everywhere, looking for something new. His meant declining revenue for Oakwood Park. The dance hall kept things above water, with dances every night throughout the early 1920s as Prohibition pushed party-people into other types of fun other than boozing it up.
In 1924 things got worse for the park. During a hot-air balloon exhibition a featured performer fell to his death, causing the eventual closing of the park in May 1925. It would never re-open. The park was sold and lots were sold to prospective home-builders.
Sadly, if you visit either end of Woods Lake, there are no traces of either Casino Park or Oakwood Park. All buildings were demolished. Some remains seem to be found during construction/excavation, like broken china from a shooting gallery, old pop bottles, and more. Other things have been found lying at the bottom of the lake…like possibly pieces of the old roller coaster.
The gallery below shows some old images of Kalamazoo's old Oakwood Park, from over one hundred years ago.
Oakwood Amusement Park, Kalamazoo: 1907-1925
MORE DEFUNCT MICHIGAN AMUSEMENT PARKS:
Liberty Amusement Park, Battle Creek: 1864-1932
Electric Amusement Park, Detroit: 1906-1928
The Former House of David Amusement Park