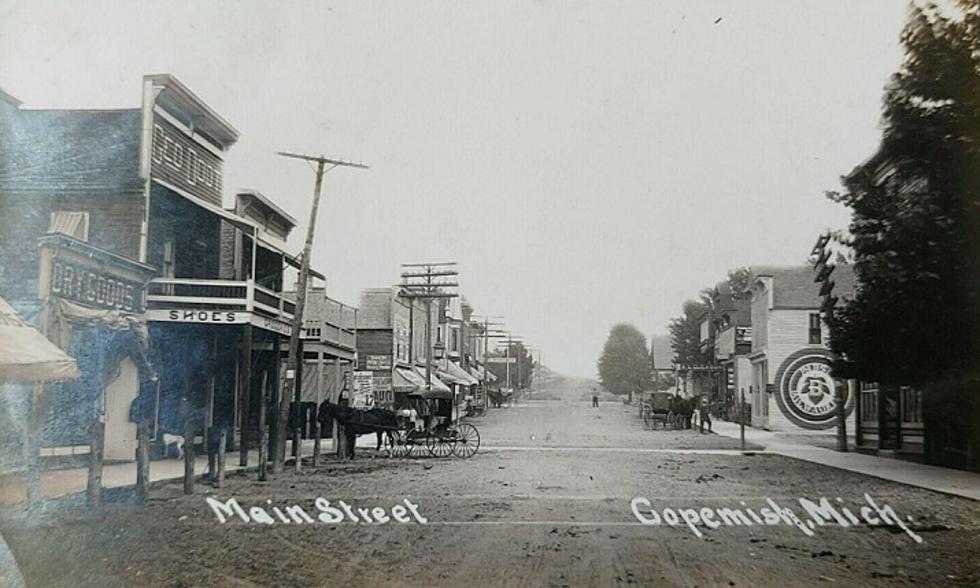 FORGOTTEN MICHIGAN TOWN: Copemish
available @ worthpoint.com
The Michigan village of Copemish lies in Manistee County's Cleon Township, 30 miles southwest of Traverse City. In the 1700's and 1800's it had been used as a site to hold council for the Ojibwe tribe. Eventually, a town was platted in 1889 and  incorporated in 1891 as "Copemish," a Native American term meaning "beech tree."
Copemish's biggest claim to fame is the pickle business. From the 1940's thru the early 1970's, it was the hub of many pickle producers in & around the area. Nowadays, the pickles have given way to nearby Crystal Mountain, bringing tourists and hiring locals.
In 1900, the population was 429.
In 2000, it was down to 232.
By 2010, it was down further to 194.
Copemish has a cool old gymnasium built right next to an even older schoolhouse at the corner of 4th Street & Maple Street (SEE PHOTOS). This would be the best thing (in Copemish) to get a picture of before someone decides to tear it down.
Add this to your next Michigan roadtrip; there are plenty of old structures still around to see. It's another interesting little out-of-the-way Michigan town that'll only take you a few minutes to visit.
Remember, some structures are private property, enjoy their historic beauty from the road.
COPEMISH GALLERY
Michigan's 19 Smallest Towns (According to the Census)
These towns in Michigan are the smallest in our state according to the latest census data. Take a look and see how many of them you know!
Vintage Michigan Airports
Michigan's Vintage Bowling Alleys: 1908-1962
Vintage Hamburger Diners and Michigan's First Drive-in Restaurant
Vintage Cereals of The Battle Creek Food Company
The Michigan Railroad That Was Never Used
13 Michigan Ghost Towns You Should Visit This Year
A Michigan 'Ghost Town' tour is great any time of year. Here are 13 to get you started!
Abandoned Calumet Radar Base
Inside the White Shoal Lighthouse
Abandoned Stone Building in Bay Shore
Ten Forgotten Clinton County Towns That Practically Vanished