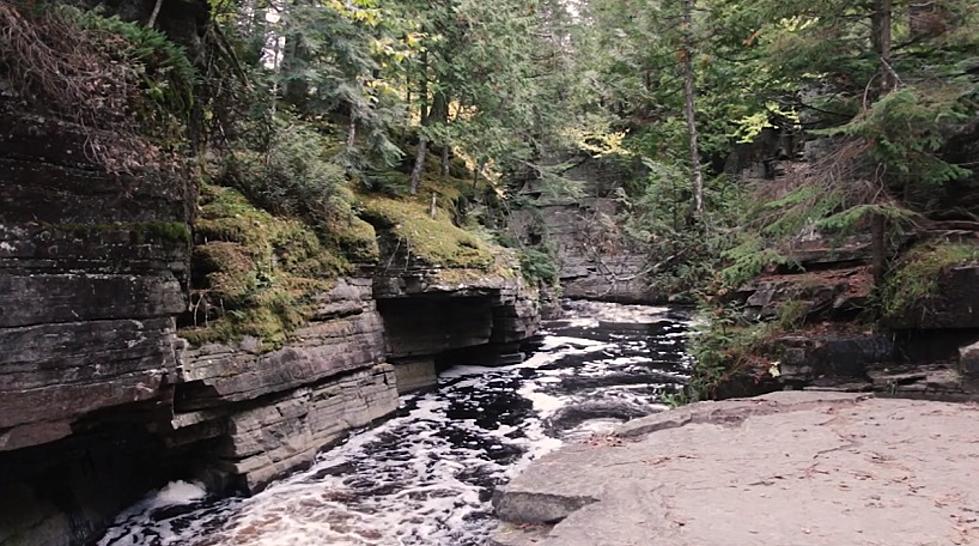 Michigan's Best-Kept Secret: Canyon Falls, Baraga County
anhudy-youtube
We all have our special secret places that we hide from others...but this one happens to be one of the best. It's Canyon Falls in the Upper Peninsula's Baraga County. The Sturgeon River flows over the falls and through an amazingly beautiful gorge, that has been called Michigan's Grand Canyon.
Although many Michiganders have visited Canyon Falls, a good number of them refer to this as their "secret place". There are plenty of areas within where you can soak in the serenity and solitude, the white noise of the waterfalls, and the rocky surroundings that make you feel as if you're somewhere in the Rocky Mountains of Colorado.
The water of the Sturgeon River is clean even though it's brownish from the tannin that comes from the surrounding trees. One of the things I enjoy doing whenever I go canoeing is to get out and swim in the river...and there is a great place here where you can swim. At the bottom of the second set of falls is a nice pool of water that is perfect.
A hiking trail makes access much easier, with "steps" made of naturally-formed chunks of slate that help you reach the top. Some parts of the trail has roots sticking out so watch your step to avoid tripping. Plus, there are sections that have boardwalks for a much smoother walk. You'll eventually reach a point where there is a sign that states "trail ends"...but many people journey further so they can get a grand view of the falls.
Canyon Falls is approximately fifteen miles south of L'Anse on US-41 and only about one mile from the parking lot. Some wonderful photos are seen in the gallery below!
Canyon Falls: Michigan's Best-Kept Secret
MORE MICHIGANIA:
Three Awesome Falls Near Munising
Horseshoe Falls
Largest Waterfall in Michigan's Lower Peninsula