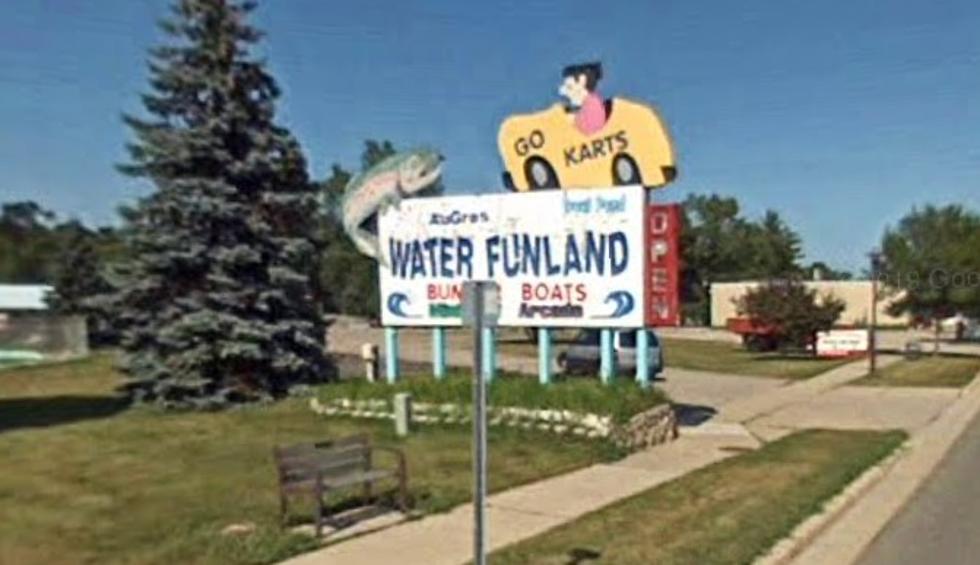 Former Amusement Park: Water Funland in Au Gres, Michigan
Google Maps
Michigan has its share of amusement parks: past, present, and non-existent. This is one from the past that is now completely non-existent.
It was the Au Gres Water Funland in Au Gres at 167 North Water Street in Arenac County.
From June 1984 to July 2002, this park – alternately known as Lutz's Funland USA and Lutz's Amusement Park – entertained residents of Mideastern Michigan. The park was owned and operated by the owners of Lutz's Bakery and Restaurant who wanted to entertain people both in a culinary and physically way.
It was a great little park, sitting alongside southbound US-23, west of the Au Gres River. Passing by, travelers noticed the big sign out front that read "Water Funland" and the huge water slide (The Loop) right there next to the road….so close to the road, you could see the smile on the kids' faces and the twinkles in their eyes as they splashed down to the slide's end.
For such a small area of land, it kept bringing in the customers. For those who didn't want to run around in their bathing suit and get wet, there were Go-Karts and bumper boats…where you might get a little damp.
After closing in 2002, only being open for eighteen years, the city of Au Gres took over responsibilities for the park. In 2011, they had all the amusements torn down and removed…but for a while, it was fun for the curious to enter the abandoned grounds and re-visit a piece of their past.
Au Gres Water Funland Amusement Park: Torn Down
MORE FORMER MICHIGAN AMUSEMENT PARKS:
Pleasure Island Amusement Park, Muskegon: 1980s-1990s
Abandoned Fun Country Amusement Park
Liberty Amusement Park, Battle Creek: 1864-1932