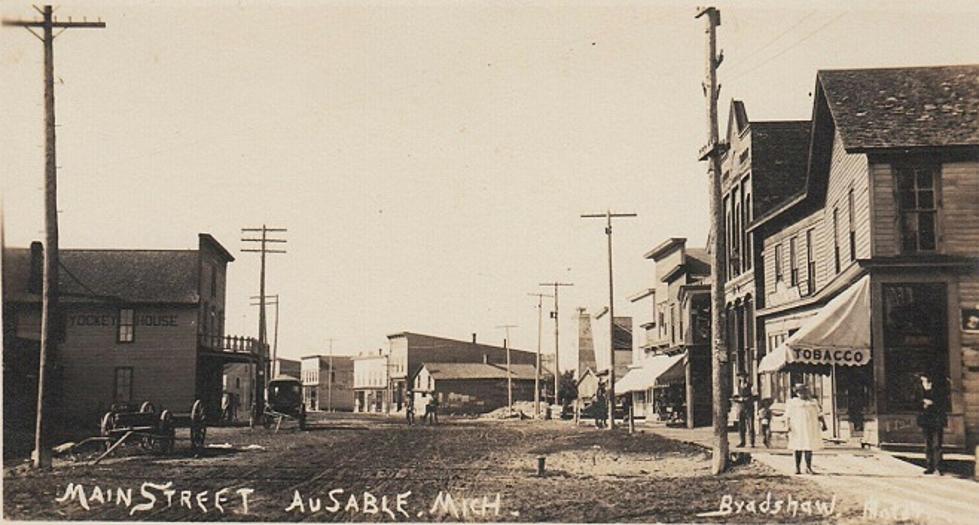 At One Time It Was the Largest City in Iosco County: Au Sable, Michigan
available @ worthpoint.com
Most of us know or have been to the Au Sable River...but some people aren't aware of the once-booming town by the same name in Iosco County.
The town of Au Sable was settled in 1848 by Curtis Emerson and James Eldridge. They bought up the land in 1848 and by 1849 it was platted. When a post office was established in 1856, Elijah Grandy, a successful local fisherman, was made postmaster. Francis Smith took it upon himself to re-plat the village in 1867 which became incorporated in 1872 and finally as a city in 1889.
It was the largest city in all of Iosco County. It had a bank, blind & sash factory, boot & shoe shop, fish dealers, three hotels, liquor dealers, ten lumber camps, pool hall, three saloons, six sawmills, three stores, and many, many more establishments. Main Street (O'Toole) was packed on both sides for a full mile with businesses.

Prosperity continued, along with some pitfalls, but it was in July 1911 when the end came. A fire raged through Au Sable and the nearby town of Oscoda for several days. Three hundred women and children were set on a barge and sent out onto the water for safety. Days later, when the fire finally subsided, only twelve houses and two schools were left standing. The city that once boasted 10,000 people had a total of 200 by 1917. By 1930 there were 61. By now, it was occasionally being referred to as a 'ghost town'.
Over the decades, Au Sable has re-vitalized itself and risen above its former 'ghost town' status. It now has over 1500 residents.
Vintage Photos of the Town of Au Sable
MORE VINTAGE MICHIGAN:
Vintage Owosso 'Then-and-Now' Photos
Vintage Photos of Laingsburg
Vintage Photos of Lake Odessa